The HOTTERdog Dog Jumper covers the torso embracing the chest, belly and front legs, and extends to the base of the tail giving maximum warmth and incredible freedom of movement for the tiniest dog or most hectic greyhound.
Strap-free with no pressure points, the jumper is suited for short and long-term wear. Not only is the fleece water-repellent and washable but also it is extremely effective for drying off wet dogs such as working dogs or after swimming or hydrotherapy.
The fleece fabric is expressly designed to wick moisture away from the body into the atmosphere while retaining body heat – a much more effective and comfortable alternative to leaving a dog in a wet towelling bag
HOTTERdog  garments are sized according to the three measurements shown in the diagram below. The various sizes available are summarised in the table below together with suggested breeds for each size. Please note this information is for guidance only.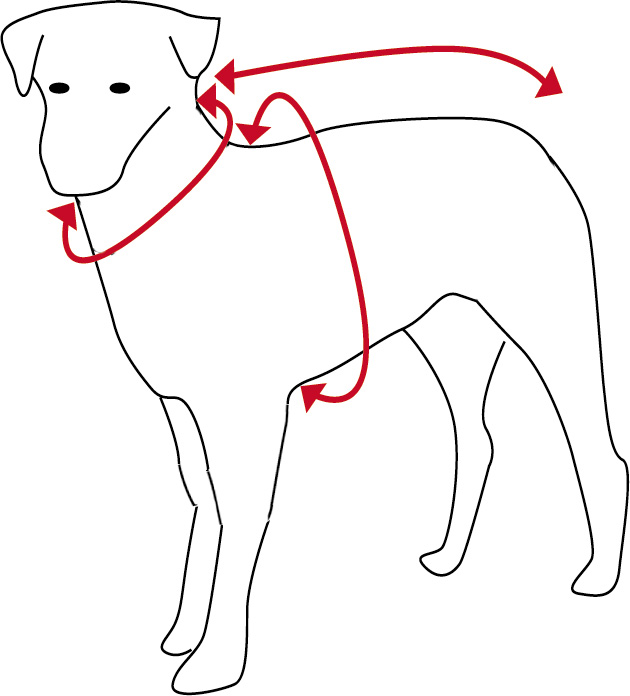 | Collar to Tail | Chest | Neck | Size |
| --- | --- | --- | --- |
| 28–34cm (11–14″) | 33–40cm (13–16″) | 22–27cm (9–11″) | XS – Extra Small |
| 35–44cm (14–18″) | 43–52cm (17–20″) | 30–35cm (12–14″) | S – Small |
| 45–55cm (18–22″) | 55–64cm (22–25″) | 36–42cm (14–16″) | M – Medium |
| 56–66cm (22–26″) | 67–76cm (26–30″) | 43–49cm (17–19″) | L – Large |
XS – Extra Small
Affenpinscher
Chihuahua
Yorkshire Terrier
Miniature Jack Russell
Manchester Terrier – Toy
Miniature Pinscher
Norfolk Terrier
Norwich Terrier
Papillon
Pekingese
Toy Poodle
S – Small
Bichon Frise
Bedlington Terrier
Border Terrier
Cairn Terrier
Chinese Crested
Cavalier King Charles
Fox Terrier
Italian Greyhound
Jack Russell
Lakeland Terrier
Lhasa Apso
Manchester Terrier – Standard
Miniature Poodle
Miniature Schnauzer
Pomeranian
Shih Tzu
M – Medium
Australian Kelpie
American Water Spaniel
Basenji
Beagle
Border Collie – Small
Cocker Spaniel
English Bull Terrier
Springer Spaniel
Staffordshire Bull Terrier
Tibetan Terrier
Vizsla – Small
Whippet
L – Large
Airedale Terrier
Afghan Hound
Border Collie
Boxer
Dalmation
Greyhound
Labrador – Small
Lurcher
Pointer
Poodle
Saluki
Schnauzer
Setter
Springer Spaniel – Large
Vizsla